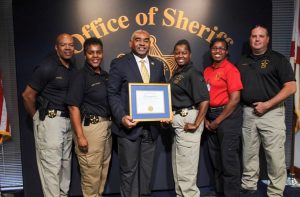 JEFFERSON COUNTY, Ala. (June 12, 2019)—The Jefferson County Sheriff's Office recently received national recognition for excellence in overseeing the county's nearly 1,000 sex offenders. Sheriff Mark Pettway and the office were recognized this week for outstanding community awareness and notification related to sex offenders for sending more than 375,000 emails to citizens.
"Our main priority is keeping the citizens of Jefferson County safe, and we do that by making them aware of who's living and what's happening in their neighborhood in a timely and most-updated manner at our fingertips," said Mark Pettway, Sheriff. "We are honored to have received this national award that recognizes the men and women in our office. Winning this award is a testament to how much our law enforcement officers care about the people in our county as well as shows the dedication they have to ensure our safety."
The Jefferson County Sheriff's Office uses the software management tool OffenderWatch to keep track of registered sex offenders, often using the system to aid in investigations and proactively improve public safety. The Sheriff's Office offers access to the OffenderWatch data free as a community service to the people of Jefferson County. People can access it on the home page of the Sheriff's office website. "In addition to our citizens having access to the database, our deputies use it to manage and monitor the whereabouts, conduct and compliance status of registered offenders in our county," added Pettway.
Of the more than 3,000 agencies and 14,000 users in the OffenderWatch network, the company selected JeffCo Sheriff's Office to receive the award. The sheriff accepted the award during a ceremony in late May.
"Sheriff Pettway and the entire sheriff's office go above and beyond what is required in statute to collect comprehensive data on each and every offender in their jurisdiction," said Mike Cormaci, president of OffenderWatch.
The Jefferson County Sheriff's Office is responsible for managing, tracking and verifying registered sex offenders in the county. The office also is responsible for notifying the public of registered sex offenders. The public can sign up to receive free notifications when a registered sex offender moves into their neighborhood or near any address using the link below.
Sign up for OffenderWatch sex offender notifications from JCSO:
● http://sheriffalerts.com/cap_main.php?office=53840
About OffenderWatch
There are more than 900,000 registered sex offenders in the United States. Many states have different systems for tracking these offenders, making it difficult for agencies to update records when the offenders cross state lines. The OffenderWatch Network is the largest sex offender registry system in the U.S., working with more than 3,000 local, state and federal law enforcement agencies in 37 states. Founded in 2000 in Covington, La. under the Watch Systems company, OffenderWatch has expanded to include data on registered sex offenders from sheriffs' offices, police departments, Attorney Generals' offices, U.S. Marshal judicial districts, U.S. attorneys, federal and state probation and parole agents, department of corrections, Indian tribes, and more. OffenderWatch partnered with Canada in spring 2018 to enhance the Canadian National Sex Offender Registry. Learn more at OffenderWatch.com.
About the Jefferson County Sheriff's Office:
The mission of the Jefferson County Sheriff's Office is to preserve the public peace, to impartially enforce the law and to ensure the safety of residents and businesses. Mark Pettway was elected Sheriff on Nov. 6, 2018, after serving as a law enforcement officer for more than 27 years. Under his leadership, the Sheriff's deputies and professional staff are making a difference in the community every day, by curbing crime, apprehending criminals, supporting victims, educating residents and giving back.