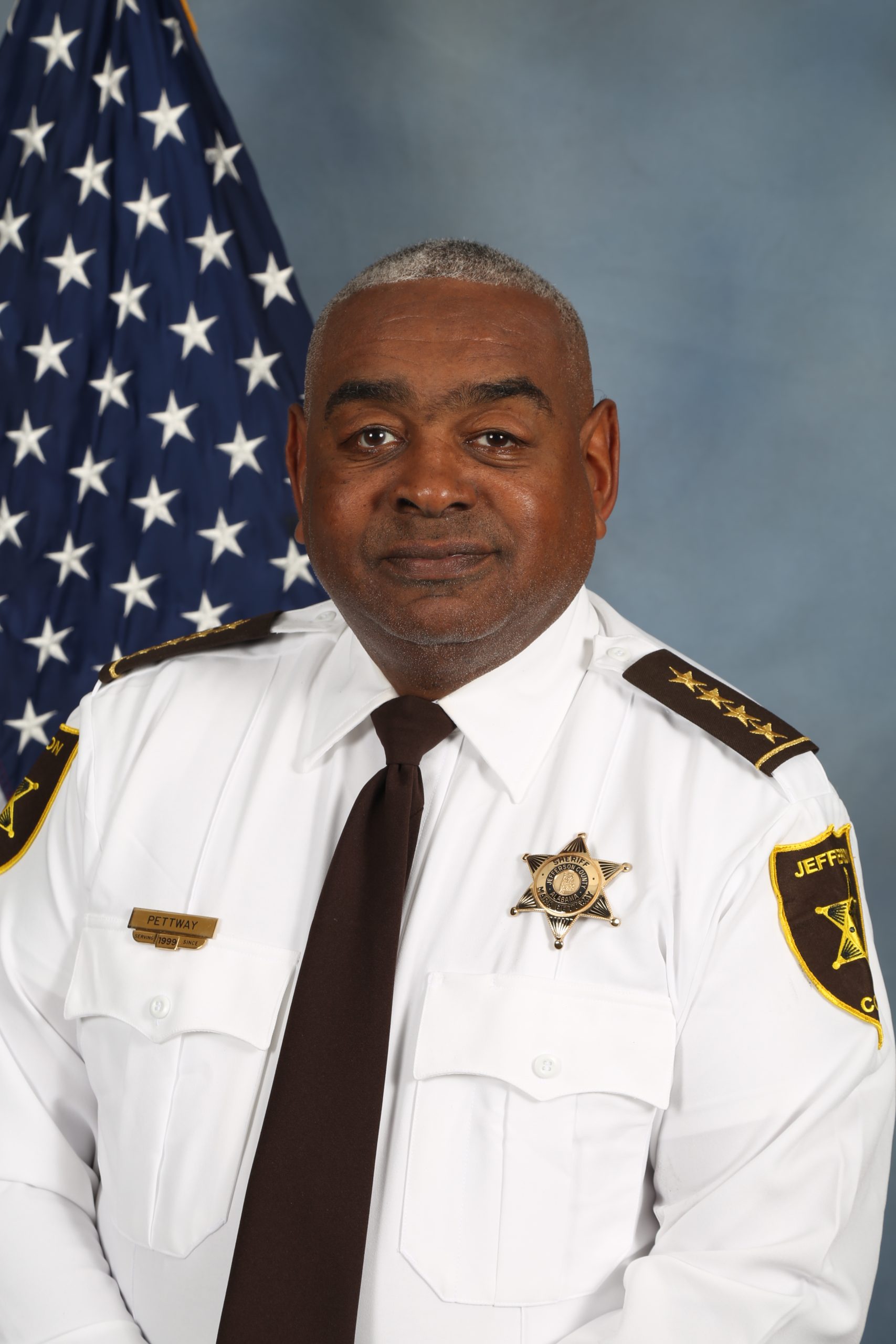 OFFICE OF THE JEFFERSON COUNTY SHERIFF​
Sheriff Mark Levie Pettway
Sheriff Mark L. Pettway is a career nationally recognized and decorated law enforcement official, who was honored as the 2022 "Law Enforcement Executive of the Year" by the International Crisis Intervention Team. Sheriff Pettway has more than three decades of solid law enforcement and management experience in Jefferson County dating back to 1991.
He joined the Jefferson County Sheriff's Office in 1999 where he is currently serving his second term as sheriff. Pettway was first elected on November 6, 2018, making history, when he was sworn in as the first African American elected as Sheriff of Jefferson County and won re-election on November 8, 2022.
As Sheriff, Pettway oversees one the largest law enforcement agencies in the State of Alabama. Over the course his long career he has witnessed all types of crimes and acts of violence. The lessons learned from those experiences provided him with the foundation and expertise to lead from a place of strength enforcing the law, but also showing his compassion to make a positive impact on the lives of those he serves.
As an advocate for the mental health community, Sheriff Pettway has made improving mental healthcare in the County a key part of his administration. His dedication is evident by the additional resources that he has made available to significantly improve matters of mental health and addiction among the inmates in the two Jefferson County jails. Sheriff Pettway also believes education is critical in preventing incarceration. He turned a vision into reality with the creation of his Books Not Bullets program. Through a partnership with the American Federation of Teachers, deputies distribute books while on patrol in communities across Jefferson County.
Sheriff Pettway earned a bachelor's degree in business administration from Faulkner University in Montgomery, Alabama, and is an active member of the Fraternal Order of Police.
Sheriff Pettway is a staunch supporter of both the community and the men and women of the Jefferson County Sheriff's office. He is a Birmingham native, a graduate of Ensley High School and a lifelong Jefferson County resident. Pettway is a devoted man of faith, a proud husband and father. He and his wife Vanessa were married in 1994. They have two daughters Markia and Gabrielle Pettway.