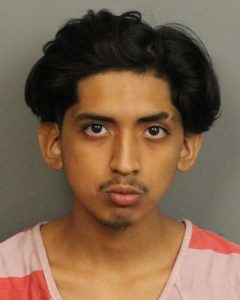 Jefferson County Sheriff's Deputies were able to track down and arrest a suspect in a murder that occurred at the Charter East Apartments in Center Point on Thursday afternoon, October 6, 2022.  Detectives arrested 18-year-old, William Ayala Torres shortly after the murder occurred.  Torres is being charged with Capital Murder in the shooting death of 23-year-old, Calvin Maurice Chambers, and possession of marijuana 2nd degree.  Torres' bond is set at $106,000.00.
Four additional subjects were arrested in conjunction with the circumstances surrounding the shooting.  A 20-year-old male was arrested and is being charged with felony possession of marijuana 1st degree, while two other males and one female were arrested and charged with misdemeanor possession of marijuana 2nd degree.
Deputies at the scene quickly made use of the resources available, to develop information on the suspects in this case.  The information was distributed to other deputies in the area, as well as to neighboring agencies.  Deputies were able to locate the suspect vehicle and after a brief pursuit, the vehicle was successfully stopped.  The five suspects were apprehended without injury and placed into the Jefferson County Jail in Birmingham.