The Sheriff's Academy is the only law enforcement academy in the state where the training curriculum is specifically developed for the unique duties and responsibilities of deputy sheriffs. This allows for the teaching of departmental specific topics. Deputies no longer have to be sent off for academy training, which is cost-effective since lodging, per diem and training fees will no longer apply.
Lieutenant Venita Edge, Sergeants Bill Powell and Terrill Hogeland, and Administrative Clerk Janet Mitchell are on the Academy staff. Tommie Black is the Deputy Director of the Academy.
You can reach the Academy by calling 205-849-5246.
Jefferson County Sheriff's Training Academy is unique among the state's training facilities. It is the only Academy offering specialized curriculum addressing those duties and responsibilities designated especially to sheriffs through Alabama's Constitution. The Sheriff's Academy is certified through Alabama's Police Officers Standards and Training to provide standardized basic recruit training. Subsequent to receiving standard, state-mandated training, recruits at the Sheriff's Academy study concepts and principles of court security, service of civil processes, correctional management, and legal issues, policies and procedures of election management.
Through the Sheriff's Training Academy experts from federal, state and local law enforcement agencies provide extraordinary insight and knowledge of complex issues of the criminal justice practitioner.
The Sheriff's Training Academy offers Sheriff's Office personnel quality training and training in areas specific to Sheriff's responsibilities without the high cost of other residency recruit training centers. Training recruits the Sheriff's Training Academy makes training most cost-effective.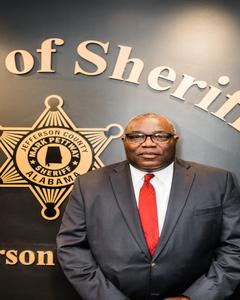 Deputy Chief
Charles Buchannon
Jefferson County Training Academy