The Corrections Division of the Sheriff's Office is responsible for housing incarcerated persons, who are awaiting trial or transfer to the State of Alabama's Department of Corrections. The Corrections Division processes in and out of jail approximately 43,000 inmates annually and maintains an average population of 1,000 inmates between two facilities located in downtown Birmingham and Bessemer. The staff assigned to the Corrections Division are committed to providing a safe and secure environment in a professional manner.
Both facilities have on-site medical services. Law libraries and adult educational services are available at the Birmingham facility. The Sheriff's Pre-Trial Release Office operates out of both facilities to help facilitate the release of qualified individuals and assist the public in making bonds for individuals not qualified for the pre-trial release program. Additionally, the Sheriff's Office Roadside Trash Cleanup detail operates out of both facilities. Non-violent, convicted persons work on this detail, cleaning up Jefferson County roadways.
Now you can search online to see inmates who are housed in the Jefferson County Sheriff's Correctional Facilities. You can see the full list of inmates or search by last name. There is also a list of persons booked in the last 24 hours. You will be able to find out what facility they are in, what they are charged for and how much their bond is.
Inmate Search: Please click here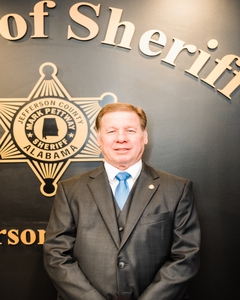 Captain Al Finley
Bessemer-Corrections Commander