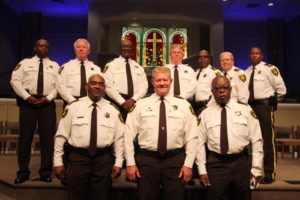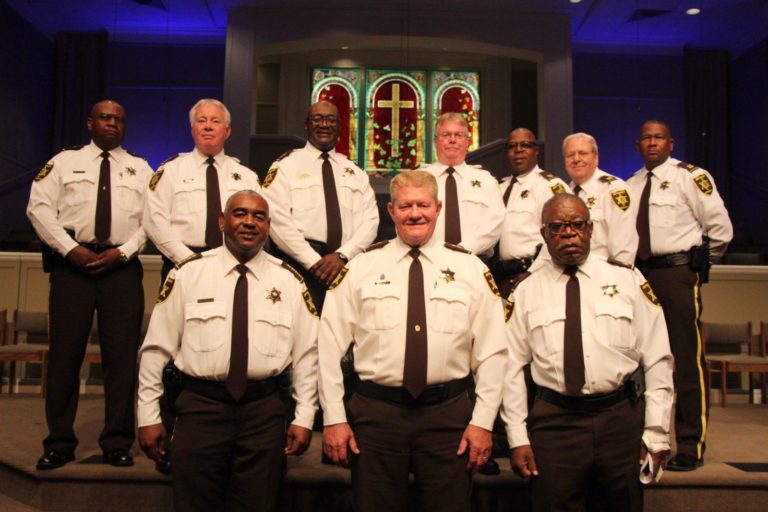 Birmingham, Alabama- (Sept. 18) — Twenty-nine deputies from all over the State of Alabama received their APOST Certificates yesterday during a Commencement Ceremony for the Jefferson County Sheriff's Academy Session 54 at Lakeside Baptist Church in Birmingham. Twelve of the graduates will be new deputies in Jefferson County. Sheriff Mark Pettway also announced several promotions within his office. David Agee, Charles Buchannon, Mark Farley and Anthony Pippen were promoted to Deputy Chief. Andrea Knight, Wendell Major, John Mayes, George Ponder and John Weatherly were promoted to Captain.
Academy Deputy Director Tommie Black welcomed everyone to the ceremony and introduced commencement speaker the Honorable Judge L. Scott, Coogler of the U.S. District Court of Alabama. Judge Coogler of the U. S. District Court began his speech to the deputies by talking about how law enforcement gets into the blood of those serving.
"It is imperative that you continue your training, for your own personal safety," said Judge Coogler. "Last night in Tuscaloosa, two little girls lost their dad, it can happen in a blink of an eye. This job is hard enough and that's why you train so much so when you get off you can go home at night. I know you will come to love this job the way I did."
Coogler went on to say that those serving in law enforcement are heroes because they have courage, character and heart. "Heroes put themselves in harm's way because that's what they do," he added.
Judge Coogler ended his speech by quoting Gen. Schwarzkopf, "When faced with a tough decision, just do what is right."
President of Session 54 Class, JaMichael White of Jefferson County, delivered a speech to his fellow Academy graduates."I'm confident that Session 54 will respond when faced with inanimate danger promptly, tactfully, with valor and never with a disregard for human decency," White said. He charged Session 54 to be intentional when they put their uniform on every day; to take responsibility for their own individual growth and to recognize their weaknesses; he also charged them to stand on the side of justice; he also charged them to continuously be their brother's and sister's keepers; and to be a human being because they all have feelings that may cloud their judgment, which is unacceptable in this line of work.
After Deputy White's speech Sgt. Terrill Hogeland handed out awards to deputies who made the top achievements in the following areas:
The Top Gun Award was given to Deputy Edward Cody Johnson of Dale County.
The top Academic Achievement Award was given to Deputy Jacob Kyle Blackstone of Chambers county.
The Director's Award was given to Deputy JaMichael White of Jefferson County.
The Physical Fitness Award was given to Deputy Michael Kahlen Hicks of Blount County.
The Physical Fitness Achievement Award was given to Deputy Edward Cody Johnson of Dale County.
The Staff Excellence Award was given to Deputy Eric Brian Blackwood of Mobile County.
During the ceremony, Sheriff Pettway thanked the many Jefferson County Sheriff's Office commanders, staff and guest instructors who made the Session 54 Academy successful. The Session 54 class was the first graduating completely under Sheriff Pettway.
The Jefferson County Sheriff's Academy graduated Deputies from 13 counties including Blount County, Chambers County, Choctaw County, Clarke County, Covington County, Dale County, Escambia County, Houston County, Lawrence County, Lauderdale County, Mobile County, Morgan County and Talladega County.