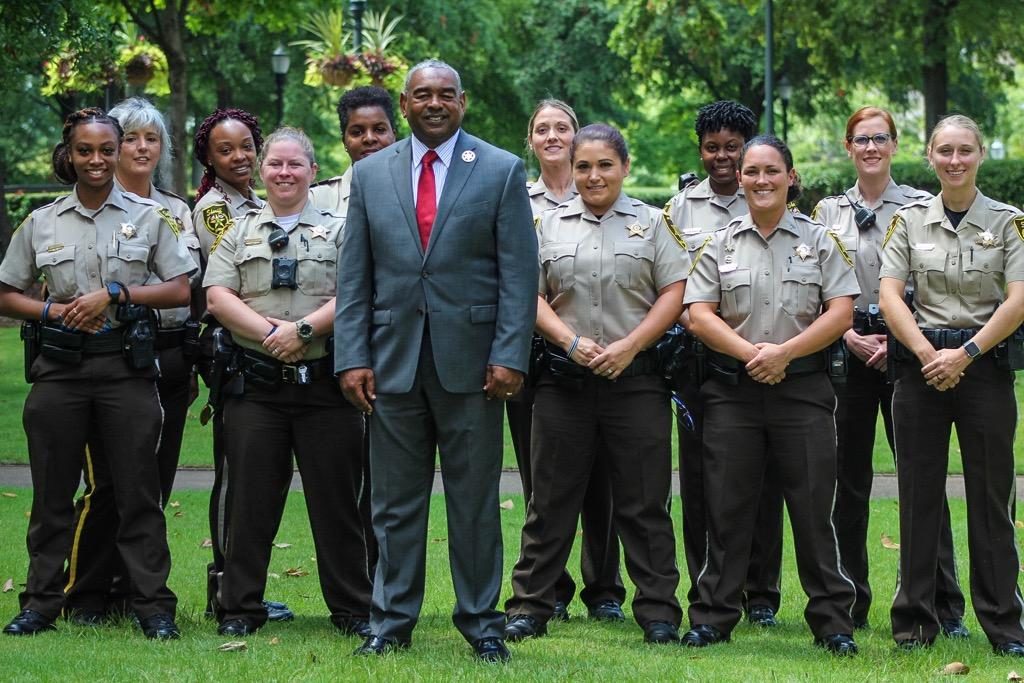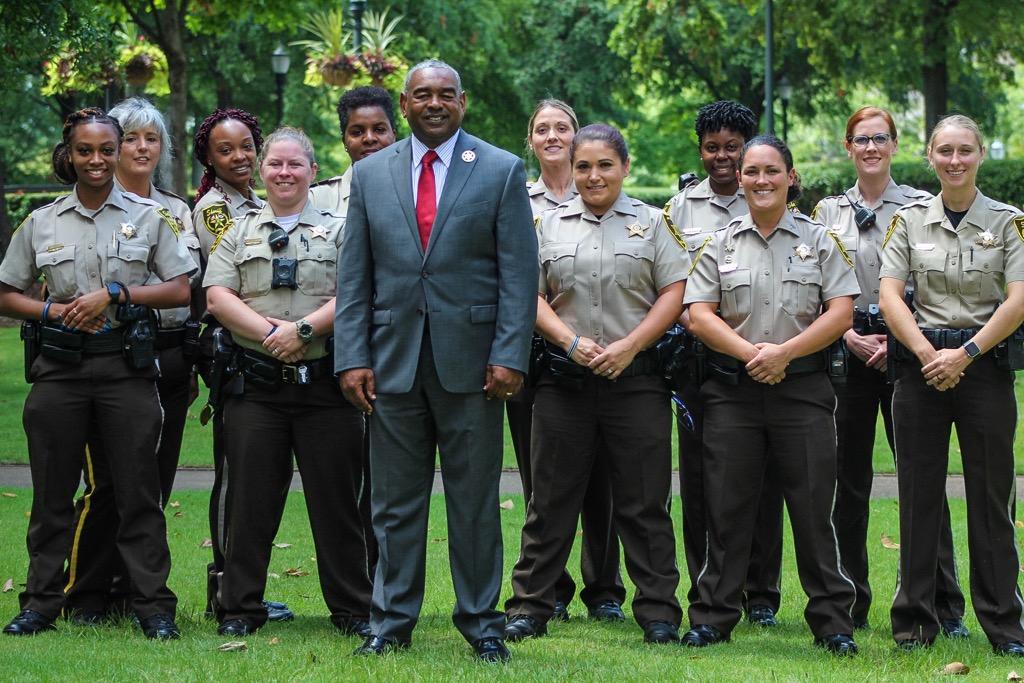 L-R Dep. Tealla Shepard, Sgt. Joni Money, Dep. Denetria McGlown, Dep. Courtney Scott, Sgt. Kim Grant, Sheriff Mark Pettway, Dep. Dana Buttram, Dep. Kirsten Ledlow, Dep. Jasmine Paige, Corp. Katelyn Payne, Deputy April Ling, Deputy Megan Morgan
Jefferson County's Sheriff's Office provides equal opportunities for advancement and promotion of women; We're Celebrating Women's Equality Day, Aug. 26
Birmingham, Alabama (Aug. 26) — Women's Equality Day is the celebration of the certification of the 19th Amendment which gave women the right to vote in 1920. The day also is a day that signifies women's continued fight for equality in the workplace. When Jefferson County Sheriff Mark Pettway was sworn into office, part of his platform was to ensure that there were opportunities in place for the advancement of women. Sheriff Pettway has assigned Captain Felicia Rucker-Sumerlin to head our School Resource Division. Sheriff Pettway stated that he identified Capt. Rucker-Sumerlin as a leader and put her into a position where her leadership skills would thrive. He also has assigned other women to leadership positions in his office. Sheriff Pettway has also assigned Ms. Charlene Cannon to supervise the Office of Pistol Permits.
"We actively recruit women to join the Sheriff's office and we consider them equal to their male counterparts," said Sheriff Mark Pettway. "Women can do the same jobs as men and we have put into place opportunities for promotion and advancement."
Sgt. Kim Grant and Deputy Tealla Shepard represent two examples in the Jefferson County Sheriff's Office of how a career in law enforcement can be a rewarding career for women.
Sgt. Kim Grant has been with the Sheriff's office for 26 years. She works in community relations and supervises the Sex Offender's unit. "We've made a lot of strides in law enforcement," said Sgt. Grant. "I have a very relatable approach to how I handle a mother or father who may have to face that their child is a victim of sexual assault." She also loves the positive impact she has on the community. For her, she has had a very rewarding career and loves law enforcement. "We're out here protecting and serving and I work tirelessly to protect families and children who live in our county."
Deputy Tealla Shepard joined the Sheriff's office in May of 2018 after graduating from Miles College. Being new to the force, she has a different perspective of law enforcement and hopes to move up the ladder as she gets more experience. She is currently working at the Jefferson County Jail and has had to learn how to communicate with people in a variety of situations.
"I love meeting new people and learning from the veterans on the force," said Deputy Tealla Shepard. "I am here to learn how to deal with all kinds of situations and how to communicate with many different types of people. I like that I get to make a difference in people's lives."
Hats off to all of the women of the Jefferson County Sheriff's Office.