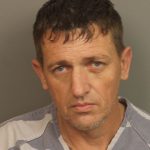 Shortly after 4:00 PM on Wednesday, June 22, 2022, a Jefferson County Sheriff's Deputy had transported a 45-year-old, male inmate to UAB hospital for treatment.  Upon arrival, the inmate, Phillip Shane Bradford managed to overpower the deputy and flee the scene in an unoccupied ambulance.  Birmingham Police Department located the stolen ambulance in the Robinwood area.  Jefferson County Sheriff's deputies, including K-9 Deputies have joined in the search for Bradford.
Bradford has been charged with  robbery 1st degree, obstruction of governmental operations, possession of drug paraphernalia, attempting to elude and escape 3rd degree.  Bradford also has 1 failure to appear charge and 9 probation violations.
If you see Bradford, please call 911. You may also call Crime Stoppers at 205-254-7777.