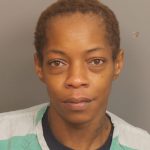 At approximately 8:15 AM on Sunday, April 18, 2021, Jefferson County Sheriff's Deputies were called to a business on Pawnee Village Road in East Jefferson County to investigate a male who was found deceased.  Upon arrival, deputies discovered the body of a male in his 60's.
If appears that around 10:00 PM on Saturday, April 17, 2021, a female was with the male at this location and some type of disagreement between the two occurred.  The female got into the male's car and drove away.  The male was drug by the vehicle and fell to the ground.  The female returned in the vehicle and slowly approached the male while he was still laying on the ground.  It appeared as though the female rolled over him multiple times with the vehicle during the altercation.  She then left the scene and returned a second time and attempted to roll over the victim again with the vehicle but was unsuccessful, as the victim had rolled underneath a tractor trailer bed.  She offered no assistance or aid to the victim at any time.  The suspect left the scene a final time in the victim's vehicle.
After reviewing the video footage and examining the evidence at the scene, detectives were able to develop a suspect.  Tomeka Sims, a 46 year old female has been placed in the Jefferson County Jail on the charge of murder with a bond of $50,000.  She and the victim had been in a long term dating relationship.
Jefferson County detectives will continue the investigation into the circumstances surrounding this murder.