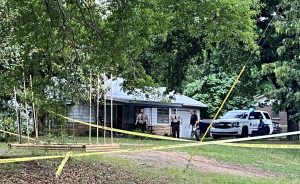 Shortly after 5:00 PM, on Thursday, May 5, 2022, Deputies responded to the 1200 block of Alliance Road in Western Jefferson County to the report of a person being shot.  Deputies arrived to find a 57-year-old male, who had been shot.  He was pronounced dead at the scene.  According to witnesses, the suspect had fled the scene.
At approximately 6:00 PM, Deputies received information that the suspect was located at a nearby residence.  Deputies went to that location and saw the suspect outside the home.  As deputies approached the suspect, they noticed he had a weapon in his hand.  They began giving commands for the suspect to drop the weapon, but the suspect shot himself.  Medical attention was immediately provided and the suspect was airlifted to UAB Hospital with life-threatening injuries.
Detectives are working to complete the investigation.  Witnesses reported that the shooting may have stemmed from a dispute over rental payments.