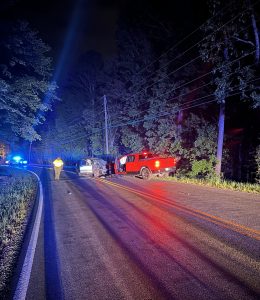 At approximately 10:45 PM on April 22, Jefferson County Sheriff's deputies were dispatched to the 3400 block of 15th Street Road in Western Jefferson County, to investigate a two vehicle crash.  It appears that one of the vehicles crossed over the center line, striking the other head-on.
Two people were transported to local hospitals from the scene.  One of those victims, a 29-year-old male, was later pronounced  dead at the hospital.  The other, a 51-year-old female, is listed in critical condition. A third adult male occupant, was not transported by medical personnel.
The Jefferson County Sheriff's Traffic Accident Reconstruction Team was called to the scene and is currently conducting an investigation into the circumstances surrounding the crash.