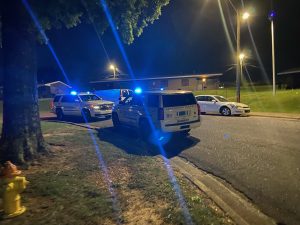 At approximately 12:05 AM today, Jefferson County Sheriff's deputies responded to the 300 block of 66th Street in Fairfield on reports of multiple shots fired.  Upon arrival, deputies discover a 46-year-old male at this location, suffering from multiple gunshot wounds.  He was transported to UAB Hospital with life-threatening injuries.
Approximately a block away, a 41-year-old male was discovered inside a wrecked vehicle.  He was also suffering from multiple gunshot wounds and was pronounced deceased at the scene.  An unnamed female passenger was inside the vehicle, but was not injured in the shooting.
Evidence suggests that the 41-year-old male went to an apartment building at the named location and spoke with the 46-year-old male, while the female waited outside in the car.  An argument ensued and the two fired multiple times at each other.  The 41-year-old male got back into his vehicle and attempted to flee the scene. He traveled approximately a block, where he wrecked the vehicle.
Jefferson County Sheriff's detectives are conducting an investigation into the circumstances surrounding the shooting.  If you have any information that may be relevant to this case, you are asked to call 205-325-1450, option 2.