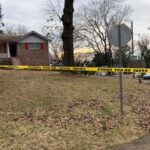 About 3:30 PM on Thursday, February 4, 2021, Jefferson County Sheriff's Deputies were dispatched to the 300 block of 19th Court NE in Centerpoint to investigate reports of an argument and shots being fired.
Once on the scene, Deputies encountered a 17-year-old male who was deceased from a gunshot wound.  According to witnesses, there was an altercation that occurred at a family gathering and an altercation broke out.  During the altercation, a shot was fired, striking the victim.
Jefferson County Sheriff's Detectives will continue the investigation into the shooting.